Latest News
Chris Bennett update, action from Glasgow, Lothian, Kilmarnock, WHW, Aberdeen and Parkruns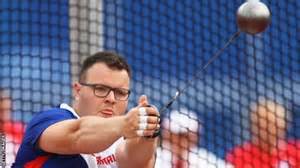 Another busy weekend for the club saw club members competing all over the country and over all surfaces, well done to everyone
Chris Bennett
It is good to catch up with the progress of Chris Bennet as we approach the selection process for the Commonwealth Games . This year the club has given Chris much support financially through the Jack Kean Award and a Grant award to help in his preparations for the Games. All his hard work and the support is working as he threw a season best of 73.48 at the Kladno meeting in the Czech Rep last week. Next weekend he will compete in the UK championships in Manchester, an important event in selection for all the major championships this summer. I am sure everyone in the club wishes him well.
Brian Goodwin Memorial 10km
Close to home three of our ladies competed in the Brian Goodwin Memorial 10km in Pollok Park on Friday evening. Brian was a long term official and excellent runner over many years. A backbone of the Bellahouston club.
Results
168th (17th F) Kirsty Mann 43.10, 296th(73rd F) Arlene McKenna 51.32, 334th (92nd F) Joanne Harkins
Lothian Open Graded
On the other side of the country the Clifford family travelled to the Lothian Open Graded meeting at Meadowmill. Both Adam (800m 2.09.83) and Louise (Javelin 10.87m) were both rewarded with PB performances
Scottish Athletics National Superteams
Saturday saw our Under 12's head to Kilmarnock for the outdoor version of the 4 event Superteams Competition. Each person does a 75m, Long Jump, Turbo Javelin and a 4 x 100m, we had two girls and two boys teams. We had 14 athletes, check the link for full results . Everyone had a great day and plenty of personal bests. WELL DONE Leia, Alexia, Emily, Esme, Charlotte, Amelia, Gabrielle, Zoe, Harris, Ryan, Rudi, Edanne, Angelo and Naod. Well done everyone especially with the strong cold wind and more winter than summer day !!!
Special mention to Angelo and Naod who joined up with Josh and Samuel of Harmeny to make a composite team.
ALSO A HUGE THANK YOU TO ALL THE PARENTS/GUARDIANS and in particular each TEAM CHARERONE for their support and help throughout the day.
The West Highland Way Race
The West Highland Way Race is one of the world's longest established ultra-marathons, first taking place in 1985 on the long- distance trail between Milngavie (just north of Glasgow) and Fort William in the Scottish Highlands.
Since then, it has developed a worldwide reputation as one of the 'classic' ultra-marathon races, attracting runners to Scotland from all over the world. Entry is limited to 265 runners each year, with the relatively small size of the field helping to preserve the friendly nature of the event. For our two athletes Mark Thistlethwaite and John Duffy the 96 mile race the race brought their inner strength out.
Both of them did the club proud with Mark finishing 15th overall in a time of 19hrs.34.42 and finishing 4th MV40
John just missed his target of breaking the 20hrs barriers but finished 19th overall in a time of 20hrs.03.47 finishing 3rd MV50
Susan Walker (nee Scally) also ran the race. Her cousin is Elaine Mackay(nee Scally) who is the Club President. The Scally family have had a 94-year link to our club over 4 generations. This was a challenge just before her 60th birthday! Susan can be seen helping at the Allan Scally Memorial Relay Race travelling from her East Coast home. Her time was 30hrs.37.19 placing 130th and 6th FV50 -We hope she can enjoy her birthday now!
Men's 10km Glasgow
Michael Paxton 7th 34:28, Ronnie Strachan 24th 36:13, Andrew Waite 85th 39:27,
Stephen Clark 159th 41:50, Ben Fullarton 221st 43:02, Andrew Kirkhope 502nd 47:06
Joint League Match
With support for the club a number of club athletes made the trip to Aberdeen for the 3rd Joint League meeting.
The talent spring group coached by Gordon Bury travelled together and had to put up with strong winds during their event
100m results
Heat 1 Imante Gkontouin 11.22
Heat 2 Michael Conteh 11.83
Paul Easdale 12.01
Heat 3 Maynard Conteh 11.83
Cole Kilpatrick12.16
Carson Graham was one of busiest athletes competing in the 110m Hurdles 18.29, High Jump 1.60m and Long Jump 5.89m following on from his multiple medals winning event last weekend at the British Masters
The 5000m saw three Shettleston athletes competing in the small field in very difficult windy conditions. Lachlan Oates, now living in Elgin, won with his fastest time of the year 14.48.96 with Jamie Burns 2nd in a PB of 14.58.38, Sam Lesley was 4th in 16.27.37 in a PB over 5000m. Lachlan then use the 400m event straight after his 5000m win to run 58.48 to improve his finishing speed.
Amit Kumar has now recovered from injury and placed 2nd in the High Jump with 1m.80
Many thanks to Kevin Slaven and Thomas Kilpatrick who made the trip to Aberdeen to officiated for the club- we can't operate without the support of these kind of individuals.
Loch Lomond 10k
Paul Sorrie and Joe Haughey made the journey to Balloch to run the Loch Lomond 10km the replacement for the Vale of Leven 10km.
Paul took the Masters prize finishing 4th overall in a time of 34.58, Joe finished 136th in a field of over 700 in a time of 48.03
Parkruns
Firstly it was over to Strathclyde Parkrun where Kenny McCoy made a surprise appearance coming in 9th place overall. Kenny played a part in the club's team success around 10 years ago across track, cross country and road. Some of the older club members will also have fond memories running alongside Kenny on 20 mile Sunday runs from Anniesland along the canal often in aweful weather conditions.
At Victoria Park Mark McColl came over the line in 13th position followed by Duncan Macaulay in 14th place. Denis Williams pulled out with hamstring issues with a lap to go but was already running strong for 18 min. We wish Denis a speedy recovery.