Latest News
West Medals and Victory at Crownpoint
Fionnula Ross added the West District 10km title to her medal haul in a fast time 34.59 . Just slightly slower than win in Shettleston Babcock 10km placing 1st lady over all in a field of 1200 runners. Avril Mason also took the roads again after her Edinburgh 21km win to place third in the ladies race (37.18) and also win the masters F40 Gold. Master runner, Denis Williams (M50),also took Master Gold placing 25th overall. Paul Sorrie (5th) and Daniel Bradford (6th) helped the team to take silver behind Cambuslang.
It was a great day for the club and all the staff at Crownpoint Stadium when a Men's League Match returned to the venue after many years Glasgow Life and their staff made a great commitment preparing the stadium -it was a pity they could not arrange a dry day Shettleston had a great day winning the Division 2 match by over 100 points and moving 3 league points clear after 2 matches. To make sure we return to Division 1 we must turn out for the next two matches on the 9th July and 13th August.
Many athletes made valuable contributions to the win but it was great to see David Martin back in the Blue and Gold – David pick up a massive amounts of Points : 100m -1st 11.14, 200m -1st 22.57, Long Jump – 1st 7m.24cm and then anchored the 4x100m to victory. Another athlete who makes a massive contribution at every match is Carson Graham: High Jump -1st 1.63m, B Long Jump -1st 5.67,110mH 2nd 17.52 and  B TJ -3rd 10.17.
Mahad Ahmed made his first appearance of the year to finish an excellent 2nd in a distance of 13.85 in the Triple Jump.
PB performances by Lewis Raeburn of 1.60m PB High Jump (1st B ) and a 800m (2.11.09), 4x400m again stacked up the points. His partner in the 800m (1.56-2nd) Callum Drummond also placed 2nd in the a 400m (52.99) before leading off the 4x400m to finish 3rd. Jamie Burns also secured a PB in the 1500m after some excellent work by teammate,Tewodle Mengisteab, pulling him through to a time of 4.09.47. Jamie and Lewis are still U/17 athlete and it was great to see them turn out for their club after both competed at the Scottish schools this weekend.
John Ruddy prepared for his trip to Turkey for the World Deaf Championships with two 2nd places over the 100m( 11.41) and 200m( 22.77) before being part of the winning 4x100m team. Paul Easdale ever present in the league teams this year finished 3rd in the B 400m (54.50) before helping the 4x100m (1st) and 4x400m (3rd ) teams.
Our endurance boys of Andy Jackson and Lachlan Calder piled on the points in the 3000m Steeplechase  taking 3rd a and 2nd B. This year alone we have had 5 different athletes competing over the chase. Andy had earlier ran over the 400m Hurdles to finish 4th in the A string.
Amanuel Hagos made his return to track running after an absence of 5years. Amanuel in his day was an athlete of truly world class, competing in World and African Championships. He finished 2nd in the A 5000m a lot slower than his best but he is on the road to recover some of his former speed. Adam Peters, just finished important exams in his medical career, answered the call to compete finishing 4th in the B event.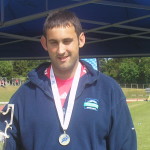 The throwing events have produced excellent results over the years for us and again it proved no different. Commonwealth Games athlete Gus McInroy produced an excellent throw of 51.30 to win the Discus. His young team mate, Chris Scanlon, had a great double, winning the A Shot (11.28m) and the B Discus (27.14). Peter Whiteman made his first appearance of the season winning the B Shot (8.05) and placed 3rd in the Javelin (31.27)
In the match we had two guest athletes, Brian Scally ( 1500m – 4.38.36) and Robert Feroll( 200m- 25.30).Robert also helped the 4x100m to win.
As well as the athletes competing the club have to supply a number of officials and helpers. Thank you to David Wallace ,Elaine Mackay , Nicola Mackay who all officiated throughout the day .Also big thanks to the three young athletes who transferred the results – Elise, Jodie and Talia who gave up their Sunday to help the club. Final thanks to Alex Mackay who helped in the organising of the match at Crownpoint.
Match results
1st Shettleston 348
2nd Falkirk 247
3rd Inverclyde 229
4th Edinburgh 218
5th Corstorphine 212
6th Clydesdale 115
7th Whitemoss 95
League Positions after 2 matches
1st Shettleston 16
2nd Inverclyde 13
3rd Edinburgh 11
4th Corstorphine 10
5th Falkirk 9
6th Clydesdale 6
7th Whitemoss 6