Latest News
West District T&F plenty of medals and P/SB, Inter District Hills and weekend roundup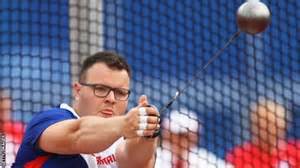 This weekend saw the first major Championships of the year with the West District Track and Field Championships at Kilmarnock.
Over the 2 days of competition we had 6 gold medals , 2 silvers and a bronze, and plenty of personal bests and season bests.
Our throwers did the club proud with Commonwealth and Olympic athlete, Chris Bennett, winning the hammer with a throw of 69.23m. Jay McCarthy was the most successful athlete over the weekend by picking up gold in the Shot Putt and the Discus. Training partner, Scott Anderson , won the Hammer and picked up the bronze in the shot. Indoor record holder, Teddy Tchoudja, picked up the Under 17 Women's title
On the track Micheal Deason celebrated his National vest call up with a victory in the 3000m Steeplechase, with Ruth Joss finishing 2nd in the Women's 1500m, Hannah Lynch also finished 2nd in the Women's 800m.
Other Results :
800m Johnny Burns 2.23.40 (4h2), Jessica Grant 2.44.92 (6h3), Gregor Campbell 2.10.69(heat), 6th Final
1500m Katie Burns 6.46.84 (16), Matthew Fox 5.23.16 (12), Erin Ellor 5.12.37(7), Elsie Hollywood 5.03.70 (8)
Shot Hannah Struthers 7.89 (5th)
Javelin Chloe Fox 9.76 (5th)
Meanwhile we had a run of athletes we competing at the UK National Districts Fell Race at Tormorden for the West Of Scotland Team.
Robert Simpson was 26th followed by Jethro Lennox in 29th (3rd O/40), 33rd Lucas Cheskin (5th U/23), 35th Tom Owens.
Parkruns
Edinburgh 
1st Peter Avent
Victoria Park 
20th Gary Turner
Tollcross
3rd John Duffy, 5th Kevin Alston, 8th David Murphy , 23rd Stephen Clark
Peter Avent finished off a busy weekend by winning the Balfron 10km by over 5  minutes in a time of 32.49.
Meanwhile we had a run of athletes we competing at the UK National Districts Hill Race at