Recent Results
Title no 2 for Wayney Babcock Dumbarton 10K , call up for Ben
The second leg of the Babcock 10km series moved to sun soaked Dumbarton on Thursday evening. With over 500 runners hoping for fast times on the mainly traffic free course it was a great sight seeing the runners weaving themself along the cycle path. Again an international feel to the race was present with multiple National Champions competing  in the male and female races. Wayney Ghebresilassie was in a class on his own after Derek Hawkins had to withdraw due to a slight back problem. Wayney was over one minute clear when he broke the tape in 31.05 for a easy victory over Stuart Gibson(Cambuslang) 32.06.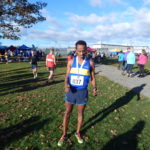 Wayney led his club mates to  five runners in the top six. A great sight to see the Gold and Blue vest crossing the line in such a prominent position. Tewodle Mengisteab continues to improve his fitness and moved to third overall in a time of 32.38, faster than last week at Helensburgh (32.45).
Daniel Bradford made his first appearance for a number of weeks to take 4th (33.05) and close the team in to secure a easy win.
Paul Sorrie 5th (33.16) and Amanuel Hagos 6th (33.26) were unlucky not to get a team prize . Amanuel will continue to get fitter and a man who has run under 29 minures for 10km, competed in World Championships and African Championships will be a welcome return to the club team. Amanuel has been through a lot in recent years and its great to  see him back out in the club vest. A great role model for our younger athletes.
The ladies race featured a number of international athletes including a world record holder. First over the line was Lyndsay Morrison(Central) who was a regular at Polaroid winning all the races last year. She had to work hard to defeat multiple world record holder and national champion over a number of distances ,Fiona Matheson (Falkirk). Fiona started in the jog Scotland system and has gone to be a truly world class master runner. Third place was taken by Jill Knowles who had cross the line first the previous week at Helensburgh .
Local Club Dumbarton and partners to Shettleston and Helensbugh in the series had much to celebrate taking the team prize with Lindsey Currie taking the F40 prize. Our own, Charlene Manley, finished 8th lady to remain on the prize list.
Thank you again to all the partners who have made this series possible – Babcock ,AG Barrs ,Start Fitness and More Miles.
Club members please remember you have an opportunity for a discount for the last race, Babcock Shettleston 10km on the 28th May 9.30am at Glasgow Green. Great Goody bag ,generous prize list, lots of spot prizes (over 100), please encourage as many people to enter from all your contacts .We also need as many people to help as possible .Please contact j.mackay@ntlworld.com  if you can help.
Babcock Dumbarton 10km –  Shettleston results
1st.Wayney Ghebresilassie 31.05, 3rd Tewodle Mengisteab 32.38, 4th Daniel Bradford 33.05, 5th Paul Sorrie 33.16, 6th Amanuel Hagos 33.26, 69th Andy Jackson 38.55, 77th Adam Peters 39.43, 126th John Duffy 42.28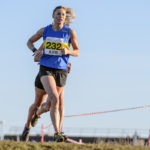 8th Female Charlene Manly 41.13, 92nd Joanne Harkins 55.23
Congratulations to Ben Johnson who competed for us a few years ago during his stay in Glasgow .Ben has been selected to compete for England in an international marathon in Canada later this year. He ran a very impressive 2.21.46 at London to finish 38th overall and at the recent Liverpool 1/2 marathon he ran 68.26. Ben can still compete for us after his stay in Glasgow and we look forward to him coming North again to wear the Blue and Gold vest.