Upcoming Events
Shettleston Harriers Get Active Project, working with Aviva and Crowdfunder
Since the club was founded in 1904 to provide an outlet from the heavy industrial lifestyle for the working class of the East End of Glasgow, the tradition of impacting on the health and wellbeing of its residents remains a strong driver for the club.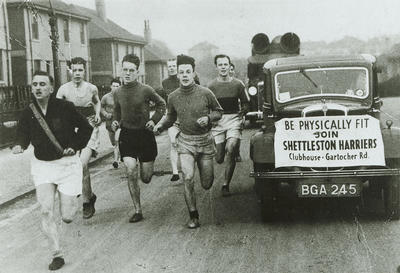 From our get active campaign in the 30's/40's/50's to working in our community today delivering physical activity sessions to help with health and wellbeing issues
Along with Aviva Community Fund and Crowdfunder we are looking to raise £4800 to deliver The GetActive Project. Working with local schools and other partners we aim is to deliver at least 12 hours of physical activity to schools communities within the East End of Glasgow (we have 53 primary schools and 10 High Schools amounting to approp 20,900 children). Physical Activity has proven benefits for your physical and mental health and COVID 19 has already added to problems that already existed within our community around health and wellbeing. This project will work towards helping to address these issues.
We are looking for your support to help us get to our target of £4800, any contributions large or small will have positive effect on our community in the East End of Glasgow. If you can help please go to https://www.avivacommunityfund.co.uk/shettleston-harriers-community
Thank you for your support