Latest News
The icing on the cake – titles galore in the Scottish Hill Runner 2016 Championship
And mighty fine cake it was too, but more of that later. Following on from the clubs success at the Western District XC relays on Saturday, the hill runners had some unfinished business to attend to on Sunday.
Our east coast rivals, Carnethy, played host to the 6th and final Scottish Hill Running (SHR) Championship race of the season, the 31st Pentland Skyline, which covers a 17 mile traverse of the hills behind Edinburgh and incorporates 16 hill summits (back of a fag packet equates to nearly one per mile) and 6,200 feet of climbing.   A not inconsiderable challenge one might add.
Even before we got going, the expression 'how many men does it take to change a light bulb' rang true as it took six grown men an inconsiderably long time to decide on who was going to drive the team to Edinburgh. So much so that it was a bit of a rush to get to the start for 11am, well for me anyway, who likes to have an hour to spare before a race.
After registering and a quick kit arrangement, the slight panic of having to frantically get ready was short lived as the race organiser decided to delay the start for 45 minutes to allow for over parking issued to be resolved. So a cool down for the 10 of the 11 travelling runners representing the club and an extra two miles warm up for our designated driver who took one for the team and had to move the car, cheers Bill Breckenridge.
By the time the race finally got underway, (runners on the first climb) the cloud cover had burned off and we were blessed with some exceptionally good weather, with glorious sun shining down on us and little, if any wind. Joe Symonds who wasn't running the race, was leading the SHR Championship and looked to be in pole position to retain his 1st place, regardless of the outcome of the race. On paper, Jethro Lennox and Ali McLeod could also theoretically take the senior men's SHR title (with all three finishing joint 1st) depending on how they placed.
The race itself can only be described as a game of two halves, the second being a kick in the proverbial as tired legs have to overcome cramp, fatigue and rough underfoot conditions, making it a real slog to get round. Also, not one to do with a post wedding hangover which was enough to end Oleg Chepelin's race early. Ali McLeod, who'd indicated pre-race that he was under the weather despite running the 7th fastest leg at the Western District XC the day before behind Callum Hawkins and club mates Tewelde and Peter Avent also succumbed to having to drop out, curtailing his chance to complete and possibly win the SHR title.
So it was left to Jethro and Kenny, the latter also on course to take the SHR MV40 title, to scrap it out at the front. Even a fresh Jethro admitted afterwards that it had been a challenge to keep with the lead group, with Kristian Jones of Dark Peak going on to with the race in a ridiculous time and new course record of 2.15.52.   Kristian was followed home by Andy Fallas of Carnethy, with former course record holder, Murray Strain of HBT taking 3rd (Murray also had one of the fastest lap times in the Eastern District XC relays). Jethro did however manage to have a gutsy run to finish 4th.   The result wasn't quite enough for him to tie with Joe in the Championship, but was sufficient to secure a 2nd place for Jethro. A fantastic and well deserved 1 2 for Joe and Jethro in the SHR Championship senior men's category. Footage of Joe below on the road to victory at Clachnaben, the first SHR race this season.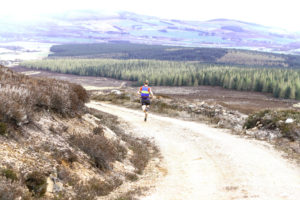 Kenny was having his own battle with Dessie Flanagan of Carnethy for the race MV40 prize, Dessie just managing to hold out and finish 6th with Kenny 14 seconds behind in 7th overall (2nd MV40). Despite this, Kenny had done enough over the campaign to secure the 2016 SHR MV40 title, his 4th time in the last six years.   Congratulations once again, Kenny.
Charlotte Morgan of Carnethy, despite looking like she had been shot from behind after losing a fair amount of blood following an altercation with some bushes, had a strong run to finish 1st lady (27th) overall in a time of 2.52.08. Charlotte's club mate, Helen Bonsor was 2nd female home.
It was a day of ups and downs, literally and metaphorically speaking, with John Connaghan making a schoolboy error nearing the end to follow Charlotte down the wrong garden path to the finish. This was the difference (or two points) between a 2nd and 3rd place podium finish in the SHR MV40 Championship. Congratulations though to John who had a good run on the day and throughout the 2016 campaign to tie joint 3rd with Stewart Whitlie of Carnethy in the MV40 SHR Championship behind Kenny and Michael Reid of Carnethy.
The day also saw some good runs from our super vets, Steve Winter (36th), Bill Breckenridge (44th), 'TJ' Pringle (77th), Walter (89th) and myself (28th) and David Houston (43rd) making up the remainder of the senior male standings.
Superb runs from all of the above and others throughout the Championship, including Tom Owens, Matt Sullivan, Graham Ramsay, Bjorn Verduijn and Douglas Porteous were sufficient to secure 1st place for the SHR senior men's and MV40 team titles. A number of which also placed respectively individually in the Championship.
A great result for all athletes representing the club on the hills this season and worthy of note the first time, since SHR records began, that Shettleston has secured the MV40 title.
Steve Winter can be seen celebrating in style with some delicious salted caramel cake provided by TJ (courtesy of Bakery 47).
The club (senior males, females and vets) are also in action this weekend in Luss, Loch Lomond at the British Championship relays (hosted by our west city rivals, Westerlands) and hope to continue their winning streak. More information can be found here http://bfhrrc2016.westerlandsccc.co.uk/ and anyone from the club who wants to help out or come along on Saturday to cheer us on, please get in touch, the more the merrier.
Pentland Skyline results can be found here: http://www.scottishhillrunners.uk/RaceResults.aspx
Pentland Skyline photos, courtesy of Harry Gilmore, can be found here: https://www.flickr.com/photos/scottishhillrunners/sets/72157673716811002
SHR Championship standings can be found here: http://www.scottishhillrunners.uk/NewsItems.aspx?NewsItemID=12161