Latest News
Club medals at West District and other results
The first championship event of the year saw our athletes travelling to Ayrshire to compete in the West District Championships at Kilmarnock.It was an successful few days with lots of medals heading back to the East of Glasgow. After the hot sunny weather it was a shock to have heavy rain, wind and cold conditions for our track and field athletes .
We had a lot of sprinters making their  first appearance of season with some success. David Martin, better know for his jumping ability, took second place in the Senior 100m (11.40) and 4th in the 200m(22.50). John Ruddy prepared for his trip to Turkey to compete in the World Deaf Championships with 6th in the 100m(11.77) and 7th in the 200m (22.75). In the Under 20 100m  Ade Mebude finished 4th in 11.56.Other Sprint performance : 100m Under 17W Gracie Gardner 14.33 PB, Catriona Brannan 14.57, 200m Under 17W Erica Moura 30.69, Gracie Gardner 29.25 PB, 200m Under 20M Lewis Young 24.20
David Watson's jumpers again came home with lots of medals with wins for Aidan Quinn (U20 Triple Jump 14.60) ,Miraji Ahmed (U/17 Triple Jump 13.34) and Cara Fairgrieve (U/17W Triple Jump 10.83). The U/17W Triple Jump was clean sweep for the club with Morgan Findlay 2nd(10.52) and Neve McGuire 3rd (10.01). With Amy Thomson 3rd in the U/20event 10.49) and Harris Finlayson 3rd in the U/15 event (8.76) coach David had a very successful day.
In the vertical jumps ( High Jump) Catriona Brannan finished  5th with a jump of 1.27m
In recent years our throwers have enjoyed a successful time at the districts and this weekend was no exception. Commonwealth athlete, Gus McInroy, retained his title in a championship best performance (52.28) in the Discus. U/17 athlete Shona Crossan had a fantastic indoor season and continued this outdoors, winning the Shot 13.02 for another Championship best performance. She then followed this up with a second in U/17 Discus(33.32). John Scott continues to produce high quality throwers and his latest charge, Kara Thompson, finished 3rd in the U/15 Shot
(9.97) and 2nd in the Discus event (30.63). Another of John's throwers, Teddy Tehoudja, competing in her first major Championship finished 6th with a throw of 8.69 in the Shot.
Another great strength for the club is our endurance section. Recent wins in the Men's League and local road races show we have a good base. Mike Deason continued the club's tradition of taking the 1500m ( 4.04.34) title following in the footsteps of Graham Everett ,Lawrie Spence ,Nat Muir ,John Mackay and Adrian Callan over the years. Mike moved to second on the Scottish rankings last weekend over the steeplechase just behind clubmate, Lachlan Oates. World Masters medallist Brian Scally moved down  the age groups to finish 10th (4.39.50).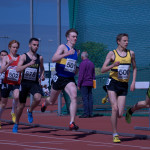 It was a great double win for Callum Drummond who retained his 800m title (1min 57).
In the younger age groups Jamie Burns ran his fastest 800m( 2.05.11) time of the year to take 3rd in a highly competitive U/17 800m .His club mate Lewis Elliot finished 6th in 2.13.75, Jordon Dolan ran 2.23.73. Some of our young U/13 girls took to the track for their first District Championships and were rewarded with PB performances – Jessica Grant (2.52.7) PB and Chloe Orr ( 2.50.39) PB in the U/13G 800m
In the younger age groups of the 1500m Lewis Raeburn continues to improve with an excellent time of 4.13.20 ( PB ) to finish 5th ,Lewis Elliot finished in 11th in a time of 4.44.12.
Gregor Campbell finished 8th in the U/15 event moving up an age group – 4.42.83 and with Elsie Hollywood 12th in a time of 5.31.30 in the U/15G event. David Woods ran his first District Championships to finish 8th in his 1500m race in a time of 5.19.30
Robert Ferrol continues his road back to full fitness finishing his 400m in 57.73 in the windy conditions. In the Under 17W 300m, Catriona Brannan , rounded off a very busy weekend by far for any club member by recording a time of 48.70 by just missing out of a PB.
Club President John Duffy has had a busy few weeks finishing 16th in the Edinburgh to North Berwick 20mile Road race last weekend. 
The Young Athlete Monkland 1k saw Matthew and Chloe Fox turn in great performances.
The usual round of Parkruns took place over the weekend:
Tollcross
7th Theo Carter, 16th Deborah Donnachie ( 2nd F), 24th Erin Ellor, 40th Gillian McKinlay
Strathclyde Park
1st F Charlene Manley, 16th Anton Manley PB (20.42)
Victoria Park
8th Duncan McCauley