Latest News
Chris' Boost for Commonwealth, Fionnuala finishes 47th, Team Silvers at West District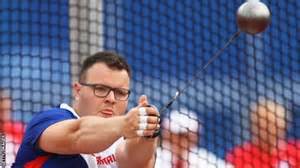 Congratulations to Chris Bennett who has been added to the World Class Programme by UK athletics after a successful appeal. Chris has competed in World, Olympic ,European and Commonwealth Games and this funding will allow him to continue to train as a full time athlete. He is in preparation for the Commonwealth Games in Gold Coast, Australia in April 2018.
Menawhile at the European Cross Country Championships at Samorin, Slovakia, Fionnuala Ross, running for Ireland, finished 47th in the Senior Women's Race. The Irish were 7th in the Team Event.
Closer to home a large of Shettleston athletes travelled to Irvine for the West District Cross Country Championships over a frozen and snowy course .It was the first time of a number of athletes pulling on the Shettleston vest.
We were most successful in the Senior races where we pick up silver medals in the Women's, Men's and Master Men's team event . Lachlan Oates was our only individual medal winner when he took 3rd place behind Grant Sheldon (Cambuslang) and Andy Douglas ( Inverclyde).
Lachlan led home 21 Shettleston Men – Full results are available on the Scottish athletics website– Silver team members were
Lachlan Oates 3rd, Peter Avent 5th, Ross Gollan 6th, Robert Simpson 12th, Grant Boyne 18th, Darren Thom 20th
Great performance from the young team of athletes and with more established runners to come back from injury the rest of the winter looks promising .The
women's team also took silver with Ruth Joss finishing an excellent 6th .
Silver team members
Ruth Joss 6th, Oonagh Dunnett 18th, Shona Robertson 23rd, Amy MacLellan 41st
Not to be undone the Masters men placed 2nd behind a very strong Cambuslang team
5th Kenny Richmond (1st M45), 7th John Connaghan, 16th Peter Mackie
In the younger groups the club was well represented over the age groups .William Bardsley took a break from his studies to finish 5th in the U/20 age
group and this feat was repeated by Jamie Burns in the U/17 event. Lewis Raeburn took 7th place in the same event.
Young athletes results below
U/13 girls
19th Erin Ellor, 43th Jessica Grant
U/13 Boys
6th team
15th David Woods, 16th Rios Dickens, 36th Euan Charlwood, 46th Johnny Burns, 59th Ruairidh Campbell
U/15 Girls
32nd Elise Hollywood
U/15 Boys
28th Theo Carter
The usual round of Park runs took place over the weekend .Charlene Manley won her first ever Park run outright after missing the WD due to work commitments at the Drumchapel event. Gilliam McKinley finished 45th in the Tollcross event.
The Club AGM takes place on Thursday 14th December at Crownpoint Club Room at 8pm and its important as many members as possible attend this and put forward their names to assist in the running of their club.
We also hope to announce the sponsor for our Allan Scally event which will take place on the venue of Glasgow Green on the 3rd March .
All Seniors and U/17 athletes are reminded the Christmas Handicap takes place next Saturday at 2pm – changing at 40 Carrick Drive G31 1RY. Please let John Mackay know if you are running to allow him to give you a handicap – j.mackay@ntlworld.com